As part of working for Corrections, I managed to convince my manager that I should be in charge of our relationship with the dog section. The team had a bit of promotion due to Dog Squad and Puppy School, but nothing within the Department. This was a dream come true for me as I love animals and really appreciated the great the dog section does to help keep Corrections sites (in prison and the community) safe. I've learnt so much about how the handlers and dogs work as a team to sniff off illicit substances (of all kinds) and the amount of hard work that goes into training these dogs to get them operational. 
The relationship started off with the dog cards. It was an idea we saw done by another agency and our team thought it was a great idea we could replicate but make it our own. I designed the dog cards in collaboration with the dog section, ensuring the cards were light-hearted as they were often given out at community events and schools. It was fun being creative in my writing when producing these cards, ensuring each handler and their dogs quirky personalities came through in the content. Each card follows the same layout, but the are all truly unique to each team when you read them. This was a great project I was solely in charge of and I ended up pushing it to be uploaded on our external website, which can be viewed here.
These cards have really been a hit. People always ask about them and they've almost become collectable items, even within the dog teams since they work in different regions!
Another part of being in charge of the promo for the dog section is I get to photograph the dogs! And their handlers, of course. Dogs are an easy way to engage staff and it gives the handlers a bit of a break from what can be a very stressful environment to work in. 
I photograph all sorts of things for the dog team. This can be for general promotions, Christmas cards, training, graduations, profile and site shoots, to retirements. It is a great day when I get called out to a dog job!
Oscar looking sharp in a "Pink Shirt Day" campaign for work.
Pictured:

Jay and Bo. Photographed as part of their six-month training alongside "Dog Squad Puppy School." 
These photos were also used in an internal campaign I produced (photos, content, design) based on our first Corrections litter and how their training was

paw

gressing.
Drug detector dog, Preston photographed for Corrections internal Christmas cards in 2018.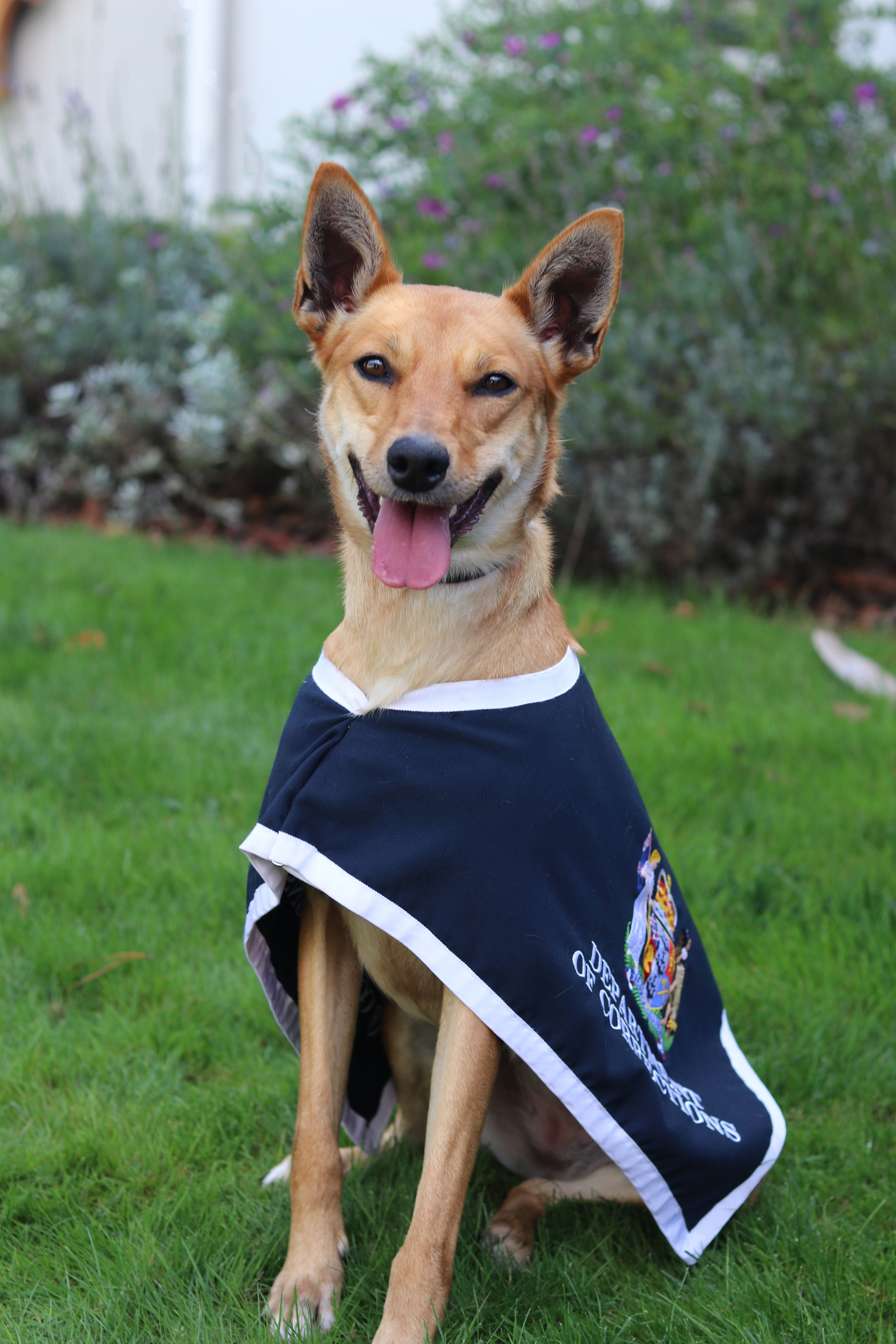 Dogs with jobs photos. Mixture of training and graduations.
Pup-date internal campaign
I created an internal promotional campaign for the dog team as one of our dogs gave birth to the first Corrections bred litter. It was a big deal for the dog section and I felt it needed the coverage it deserved. The campaign was presented in four stages. It covered their training at three, six, nine and twelve months so that people could get a real insight into how these dogs are trained and the amount of time and effort our handlers spend getting them to an operational level. The questions talked about the bond between handler and hound and how everything was going and what a

paw

ful the pups could be!
The campaign was consistency presented with headers for the story and homepage showcasing which chapter we were up to and the stages in the puppy development. This was also helpful in case somebody missed the first story and could go back to older versions easily. Creatively writing each update was good for me as it gave me a break from design and let me produce content people would enjoy reading. As a lot of the content that surrounds Corrections can be serious, it was nice to add something that would make staff smile and laugh a little if they were having a tough day.
Examples of pup-dates on internal site and the headers created for the campaign.